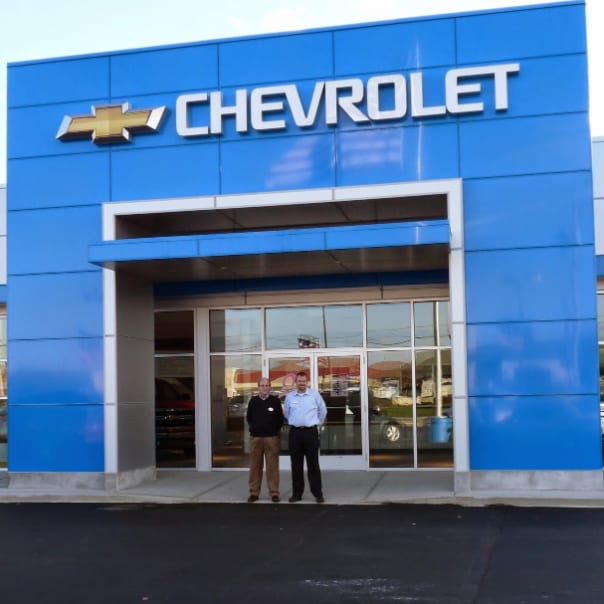 WELCOME TO DAN YOUNG CHEVROLET BUICK GMC 
Dan Young Chevrolet Buick GMC  would like to know "what drives you". Price, Service or Selection? We make every effort to give you the best price, the most complete service and the best selection of anyone in Central Indiana area.
We have a full lineup of Chevrolet cars and trucks as well as Buick and GMC.
We are also a GM certified used car dealer and our used car inventory is always excellent. We are locally owned and operated and have been in business for 20 years. We are located in a small rural community, far away from the high pressure, hustle and bustle you get at many of the larger dealers. We promise to make every trip to Tipton, well worth your time. We are consistently rated in the top 10 of GM's customer satisfaction and try to make it fun to buy a car. We know it is a major purchase and we will try to make it as painless and enjoyable as possible.
All of our mechanics are ASE certified and we have over 100 years of experience in our mechanics and service writers. Our service manager started in our clean-up department, so he knows the service business inside and out. We offer a shuttle service to and from work or home, 5 days a week. If you prefer to wait on your vehicle, we have a customer lounge with TV and we provide free coffee and popcorn every day. Just tell the service writer you would like to have your car washed and they will take care of it, free of charge. We also have a full service body shop with a state of the art paint booth and great people who know how to use it.
We have been a corporate sponsor of the Tipton Pork Festival for 10 years and support the local 4H groups, by going to the county fairs and bidding on their livestock. We also support all of the local sports teams and church organizations. We hold a customer appreciation day every spring, complete with a free car show.
If you prefer to contact us through the internet, we will try to respond, generally within 24 hours, to your request. You can request a car, fill out a credit application or make a service appointment. We also provide a locator service, that can find anything you are looking for, if we don't have it in stock.
If you are looking for a fleet vehicle, our fleet manager is one of the best in the state. He has experience with police vehicles as well as trucks and cars. He has provided many police vehicles all over the state and can help you with whatever you need.
Let us introduce you to our staff, show you some of our special vehicle offers, and take you through our complete line of new and used inventory. We can help you find exactly what you are looking for.
We know your time is valuable. We are sure you will find our site a fast and convenient way to research and find a vehicle that's right for you. If we can be of any assistance while visiting us online,
send us an email
and we will promptly reply.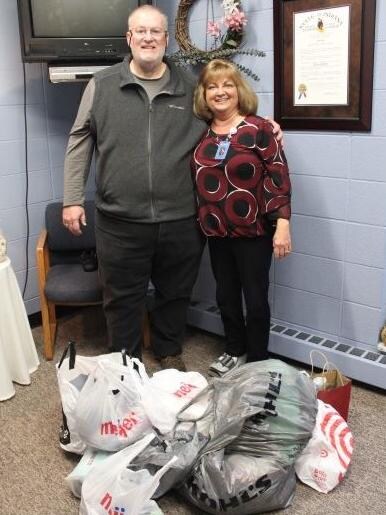 MAKING A DIFFERENCE IN OUR COMMUNITY - THANK YOU TO EVERYONE WHO DONATED
We want to give a huge thank you to everyone who donated to the "My Closet" drive we had during the month of December. We were able to drop off many donations to Gena Schultz (Program Director for My Closet). The non-profit clothing pantry is open for donations all year round. If you are wanting to donate please give donations to the Tipton Community School Corporation.
About "My Closet"
"My Closet" is a non-profit new (not used) clothing pantry for students in need who are enrolled in the Tipton Community School Corporation. "My Closet" opened in January 2015 with the belief that all children deserve to have a new outfit. It exists as a result of the partnership between TCSC and local businesses, philanthropic groups and individuals who provide 100% of the funding. "My Closet" is truly a community effort. "My Closet" allows students in need to come and "shop" once a semester. There are no financial guidelines to be met or questions asked, and everything is done in a confidential manner. Students "shopping" at "My Closet" receive, at no cost, the following: a Jacket, Shirt, Pants, Package of Socks, Package of Underwear and a Certificate for a haircut at "Absolutely You" Salon. During the winter months students receive a Winter Coat, Hat, and Gloves. All clothes are quality name brand, trendy items. If you know of a child in need of a new outfit or someone who would like to partner with "My Closet", please contact Gena Schultz at the Tipton Community School Corporation.  
Recent Awards